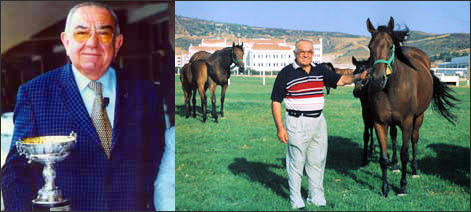 ---
Yavuz Gulerce
was born in Sivrihisar, Eskisehir on 18 th March 1938. After completing his education in the elementary and high school, he took up business at a young age. Yavuz Gulerce has been proved to be successful in the automotive and tourism industries.
Yavuz Automotive established by him in 1969 to trade spare parts of Ford passenger cars and light commercial vehicles is about to celebrate its 40 th year in an automotive field. After the decease of Mr. Yavuz, Selma Gulerce in the capacity of the Chairman of the Board of Directors, started to lead the company until today. The company Ecem Automotive acquired by Yavuz Automotive in 1999 manufactures rubber and metal parts in Izmir. Gulnur Gulerce, President of the Group, manages the businesses of Foreign Currency Services and horse breeding.
Yavuz Gulerce
, who started to engage in race horse breeding by means of a few race horses in 1992, started a success story with his first foal called Bamka. He raised a lot of champion race horses in the Gulerce Stud Farm located in Izmir, Yenifoca. Successful horses such as Yavuzhan, Cas, Bamka III, Bilgin, Yelhan, Magrip, Demirkazık, Kosanefe, Bizim Ayancıklı, Mystery Storm, Heart to Heart and Arsenic played an important role in the victories of Gulerce stable mates in many classic horse races.He has attached great importance to education and provided many students with scholarships so that they achieved to study. He has Nurbiye Gulerce Medical Vocational High School constructed in his birthplace, Sivrihisar by means of using the money he earned especially from the successes of Yavuzhan. In addition to this school that produces new graduates every year, he has an Elementary School bearing his name constructed in his birthplace, the Village Ertugrul,
Yavuz Gulerce
deceased on 16 th March 2006. We always remember him with respect, who is the incorporator of the stud farm and our companies, which have left a mark not only in Sivrihisar and
Eskisehir but also in other locations of Turkey by their investments and projects. Our mission is to raise the flag higher.